With my youngest daughters birthday just around the corner, party planning is in full effect. I've picked a cute summery flamingo theme, planned the menu, and have started creating an awesome tropical backdrop.
This week I'm working on coming up with something fun to surprise our guests with.
With a little creativity, goodie bags can be such such an easy way to continue your theme and send your guests home with a little something to remind them of your fabulous party.
Plus, what better way to say thanks for coming than by sending your guests home with an extra special treat. Here's 20 Creative Goodie Bag Ideas for Kids Birthday Parties that I really want to try!

20 GOODIE BAG IDEAS
My cute little nephew is six and is OBSESSED with sharks. I could see him being ALL OVER these shark goodie bags! Especially with those sharp teeth.
I would change them just a bit by adding larger googly eyes!
Inside the shark bags I would add: shark gummies, shark lollipops and these colorful gummy fishies!
Silver Lunch Bags – Googly Eyes – Cardstock
---
As summer approaches, my favorite goody bag for all summer parties are Beach Pails! They are cheap, colorful and a crowd favorite.
You can vinyl the outside on the pail (tutorial HERE) or just fill them with fabulous summer goodies like: bubbles wands, silly straws, beach balls and water squirters!
---
Did someone say 'no sew'!! Those might be my favorite two words ever!
How cute are these bags that require NO SEWING whatsoever. All you need is a little pom pom trim and fabric glue!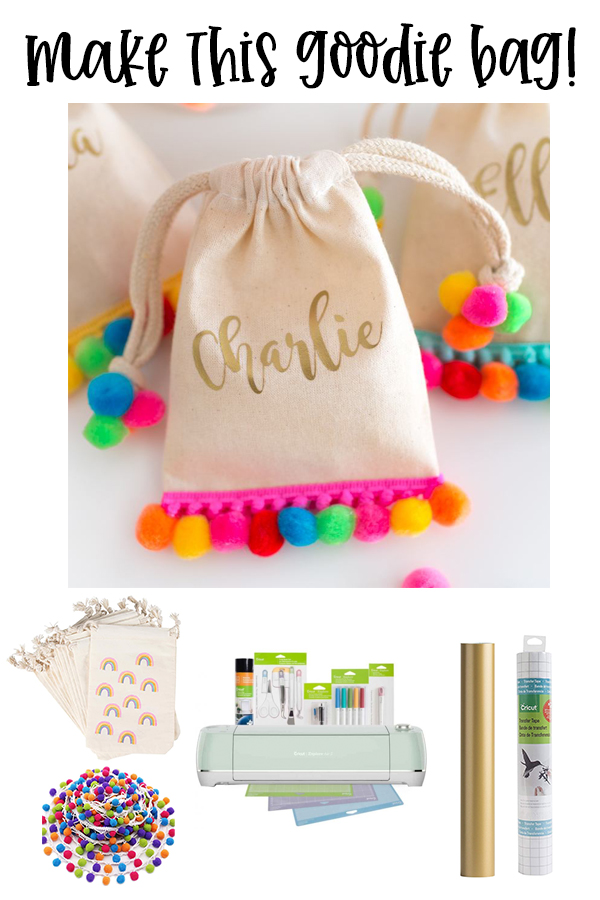 Transfer Paper – Canvas Favor Bag – Gold Vinyl – Pom Pom Trim
---
Give me all the rainbows!! Over the years, I can't seem to create enough rainbow content: Rainbow T-Shirts, Rainbow Treat Bags and this fun Rainbow Backdrop.
I love the idea of giving little kiddies rainbow favor boxes after a fun unicorn, rainbow or generic birthday party.
I would put Rainbow Candy Belts, Rainbow Lollipops and Rainbow Star Stickers inside.
---
Is there anything more magical to a little boy than dinosaurs?! I think not.
And how simple and cute are these DIY Dinsoaur bags? They are made from simple party favor bags and paper!!
How cute would the be filled with: Dino Egg Kit, Dinosaur Tattoos and Dino Gummies.
---
My favorite and easiest way to create party favors are boxes of treats that coordinate with your party theme. Like these Cracker Jacks for a baseball party for example.
Tie a darling, coordinating, punny tag to the treat and wah-laa!! The most perfect party favor ever!
I have oodles and oodles of party favor tags in my PRINTABLE LIBRARY. Have you checked it out yet? It has hundreds and hundreds of printables at your disposal.
---
My most favorite summer treat of all time are S'mores! I can think of nothing more darling than a pack of marshmallows, chocolate and graham crackers all tied together as a sweet party favor.
Especially with a darling tag like, 'here's to S'MORE summer fun' or 'one s'more year'! (both tags can be found in my PRINTABLE LIBRARY).
How darling are these hot air balloon party favors?! They can be made with any color of balloons, any base and be filled with all sorts of goodies!
Mariah of Giggles Galore has a cute tutorial on her blog of a Valentine Hot Air Balloon that you MUST check out.
---
I love the idea of a Tool Belt Party Favor for a Construction Party. I did something similar with the party I styled for Oriental Trading Co.
I stenciled the outside of the tool belt with each kid's name and then filled the tool belt with all sorts of plastic tools.
---
Flamingo Parties are still ALL THE RAGE and the cutest party theme ever. I have LOADS of fun flamingo content of my blog for you to craft and party with: FREE Printable Flamingo Party Favors,?DIY Summer Decorating Ideas and a FREE PRINTABLE Luau Backdrop.
---
There is nothing easier than polka dots and pinwheels! Colorful, playful and are perfect for moms who don't have time to DIY a whole entire party.
How cute would these pinwheels be with pretty much any theme! You could attach them to cut polka dot bags like show below.

---
We are planning a cute little camping party (well more more like camp-fire/s'mores party) for my nine year old and her friends.
I've been trying to decide on a party favor and came across these camping treat bags! They are SO darling and a breeze to make.
How darling are those tents on the front of the bag!
Inside I'm thinking of adding: kids flashlights, s'more roasting sticks and bug magnifier jars.
---
---
Is there anything more fun to a boys and girls than legos? Honestly….I love them myself and they make the PERFECT party favor.
Place a bundle in a cellophane bag, watch the Lego movie and build the hours away!
---
---
---
---
---
---
---
Love this? Pin it for later!
---
Looking for more Creative Goodie Bag Ideas for Kids Birthday Parties? Check these out on Love the Day: