Inside: 15 Gift Basket Ideas Everyone Will Love Receiving
Gift Baskets are always so fun to give and receive! Gift baskets are a great way to create a personalized gift for someone you love. Sharing some DIY Gift Basket Ideas to help get you inspired to create something special for your loved ones.
Cute Gift Basket Ideas
---
You know I'm all about home decor. So to gift a hostess with a basket full of home items is something I can do!
It has all of the essentials that every homeowner loves: candle, Mrs. Meyer's hand soap, buffalo check dish towel, greenery, and a cute sign.
MAKE THIS HOUSEWARMING GIFT BASKET
Meyers Hand Soap – Home Sweet Home Sign – Balsam Candle – Black and White Dish Towel – Fresh Plant
---
Do you know a tired momma, stressed coworker or hardworking friend who could desperately use a quiet evening curled up with a good book or favorite TV show?
Give them the gift of total relaxation — cozy hot cocoa, warm fuzzy socks, healing bath soak, a cozy blanket, Netflix gift card and a strict edict to not leave the couch under any circumstances (except to refill their mug, of course).
You could even throw in a free night of babysitting if you're feeling extra generous.
HOW TO MAKE A RELAXATION GIFT BASKET
Teal's Bath Liquid Salt – Wicker Storage Basket – Treat Yo Self Mug – Hot Chocolate – Sherpa Throw – Succulent – Cozy Socks – Silk Mask
---
Every gift basket should have a cohesive theme. And for this Breakfast In Bed theme, I wanted to include all the items necessary for a relaxing morning off.
A beautiful robe, some light reading, a gorgeous scented candle, and a great face mask are the perfect foundation for some pampering.
WHAT TO PUT IN A BREAKFAST IN BED GIFT BASKET
Kimono Robe – Rose Tea – Face Sheet Mask – Pink Mug – Hand Cream – Wire Basket – Sun & Her Flower Poems – Face Spray – Slippers
---
Colorfully Themed Gift Basket Ideas
This sunshine in a box idea is the perfect way to spread a little positivity and joy to anyone around you.
Packed full of bright yellow goodies that act as beams of sunshine busting through the box, you can make this gift basket for any occasion.

WHAT TO PUT IN A SUNSHINE GIFT BASKET
Yellow Paper Pinwheels – Yellow Lollipops – Lemon Drops – Yellow Notebooks (I found mine in the Michaels Dollar Spot, but these or these or these are cute)! – Yellow Sharpies – Lemon Chapstick (I don't remember where I picked mine up, but I'm obsessed with this and this brand) – Yellow Baker's Twine – Yellow Balloons – Yellow Washi Tape – Pineapple Trident Gum
---
Sticking with the color-coded gift basket ideas, this "out of the blue" care package is such a fun little surprise for someone.
Filled with blue goodies, you can bring a big smile to anyone's face.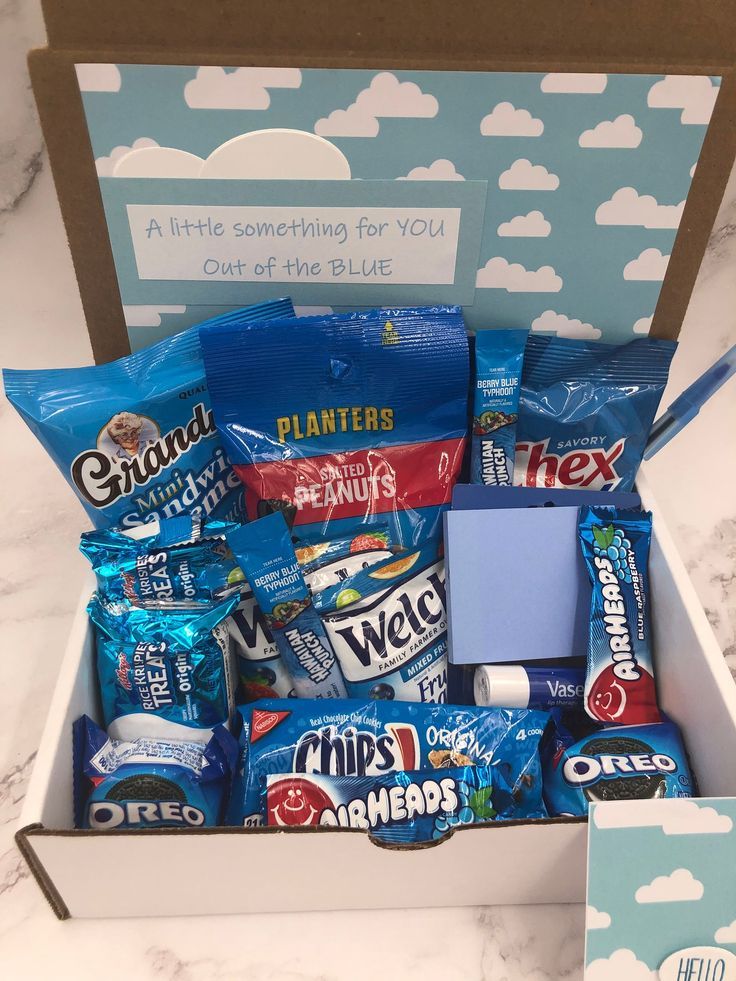 WHAT TO PUT IN AN OUT OF THE BLUE GIFT BASKET
Dove Chocolates – Blue Sheet Mask – Capri Blue Volcano Candle – Hempz Lotion – EOS Lip Balm – Ice Breaker Gum Cubes – Blue Notebook – Mini Oreos – Dark Chocolate Truffles
---
Whether you're celebrating a new baby girl or just treating someone to a gift of goodies in their favorite color.
This box is packed full of the most fun pink goodies that are sure to bring a little happiness to anyone.
WHAT TO PUT IN A PINK PAMPER HER GIFT BASKET
Strawberry Gummies – Chesapeake Candle – Pink Rose Clay Mask – Bai Sparkling Water – Takeya Water Bottle – Pink Wool Ball Garland – Pink Fanny Pack – NYX Butter Gloss – Strawberry Kettle Corn
---
This "orange" you glad gift box is perfect because you can play on those words in many different ways. Like "Orange" you glad it's summer or your birthday. Maybe even "orange" you glad we're friends!
In this Orange-themed gift box, you could include…
Orange Crush Licorice | Goldfish Crackers | Orange Tic Tacs | Orange Flavored Gum
WHAT TO PUT IN AN 'ORANGE YOU GLAD' GIFT BOX
Orange Candy Mints – Orange Sticks – Tic Tacs – Burt's Bees Orange Chapstick – Orange + Ginger Body Lotion – Orange Hand Cream – Izze Sparkling Mango Water – Orange Vanilla Candle – Orange Bath Salts – Orange Scrunchie – Vitamin C Serum – Orange Nail Polish – Orange Gummies – Orange Chocolate
---
Gift Basket Ideas for Kids
Baby boys are the best! I love how this gift basket is packed with truck toys, cool socks, and fun boy books. They amped up their basket look by using a cute dump truck at the basket itself.
Finding creative ways to change up a classic gift box is always a big fun bonus.
WHAT TO PUT IN A BABY BOY GIFT BASKET
Bunny Stuffed Animal – Footie Onesie – Baby Infant Shoes – Muslin Swaddle – Muslim Burp Cloth – Paci Clip – Lovey Sleep Toy – Rope Basket – PAT Pacifier – Knit Beanie – Silicone Spoon
---
A lot of times for baby showers it's easy to buy a cute outfit, but ultimately there are some baby essentials that will help mom in those tougher times to help make her life a little bit easier. Here are a few of our favorite items to include.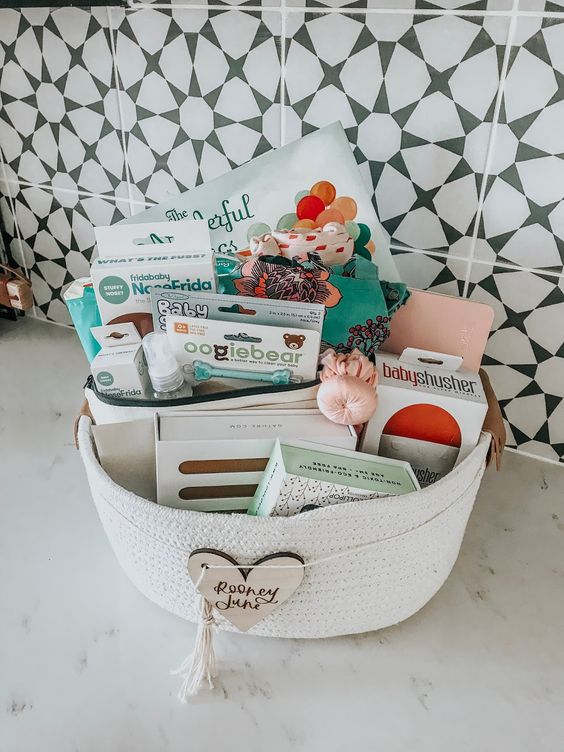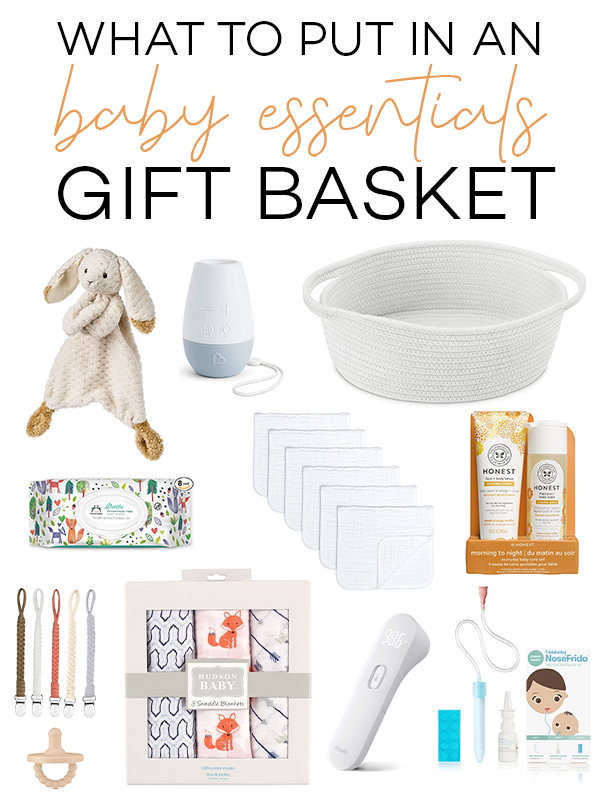 WHAT TO PUT IN AN ESSENTIAL BABY GIFT BASKET
Portable Sound Machine – No Touch Thermometer – PAT Pacifier – White Rope Basket – Unisex Swaddlers – Braided Paci Ring – Wipes – NoseFrida – Muslin Burp Cloth – Honest Baby Wash & Lotion – Baby Lovey
---
So you know someone who is having a baby girl! How fun?! I love the idea of filling up a basket with the cutest and girliest goodies.
From magical unicorns, sparkly headbands, and whimsical books there are a ton of different things you can pack into a girl gift basket.
WHAT TO PUT IN A BABY GIRL GIFT BASKET
Infant Onesie – Bow Headbands – Muslin Swaddles – Honest Baby Wash & Lotion – Pink Wood Teether – Bunny Lovey – Burp Cloths – Pat The Bunny Board Books – Sophie The Giraffe – Silicone Spoon & Fork
---
Yummy Foodie Gift Basket Ideas
It's hard to think of anyone who wouldn't be thrilled to receive an ice cream party in a jar!
Fill it up with ice cream cones, hot fudge, caramel sauce, sprinkles, and other ice cream fixings. Finish it off with a tag that says "Just Add Ice Cream!"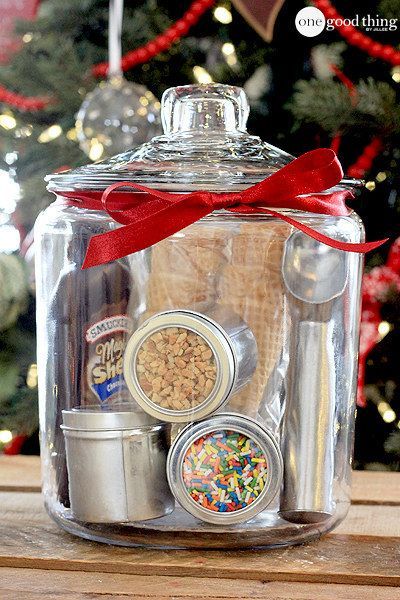 WHAT TO PUT IN AN ICE CREAM SUNDAE GIFT BASKET
Glass Jar – Rainbow Sprinkles – Stainless Steel Ice Cream Scoop – Waffle Cones – Ghirardelli Ice Cream Toppings – Crushed Peanuts – Maraschino Cherries – Ribbon – Plastic Jars
---
Baking cookies is always a fun holiday tradition. Make it easy for friends and neighbors by giving them a basket full of everything they need to make cookies at home.
Include your favorite cookie dough flavors (no need to share your secret recipe), cookie cutters, holiday sprinkles, a cookie scoop and baking essentials like a cookie sheet, cooling rack, spatula and oven mitt.
Place all items in a cute mixing bowl and add a bow and cute labels to complete.
---
I'm a big fan of both craft cocktail kits and homemade gift baskets– and an even bigger fan of homemade craft cocktail kit gift baskets.
I mean, who doesn't want all the ingredients for their favorite cocktail delivered straight to their door, right?!
---
Have a friend who loves to bake? Put together this holiday cupcake baking kit and he/she will thank you later! This kit includes the essentials needed for creating adorable cupcakes.
Start with a few cupcake baking basics like a cupcake pan and liners.
Add your favorite cake mix (don't forget to include the recipe), along with tubs of frosting and decorative sprinkles. For professional looking cupcakes, include disposable icing bags and frosting tips for creating the perfect swirl.
---