Turning 50 doesn't have to be sad, dreary, or dab, it should be one big celebration full of your favorite things, closest friends, and tons of great decorations. Maybe even a little dancing, scratch that, a lot of dancing, after all, it's worth celebrating!
We have created the best list of big 50th birthday bash ideas that are full of fun and celebration. From party themes, decoration ideas, and a few fun treats, here are some of our favorites.
50th Birthday Party Theme Ideas
50 & Fabulous Birthday Party Ideas
A classic and timeless 50th Party Theme is the "50 & Fabulous"!
Find some of the birthday girls favorite things, champagne, beautiful flowers, and maybe a few crystals here and there, you can create the most fabulous celebration.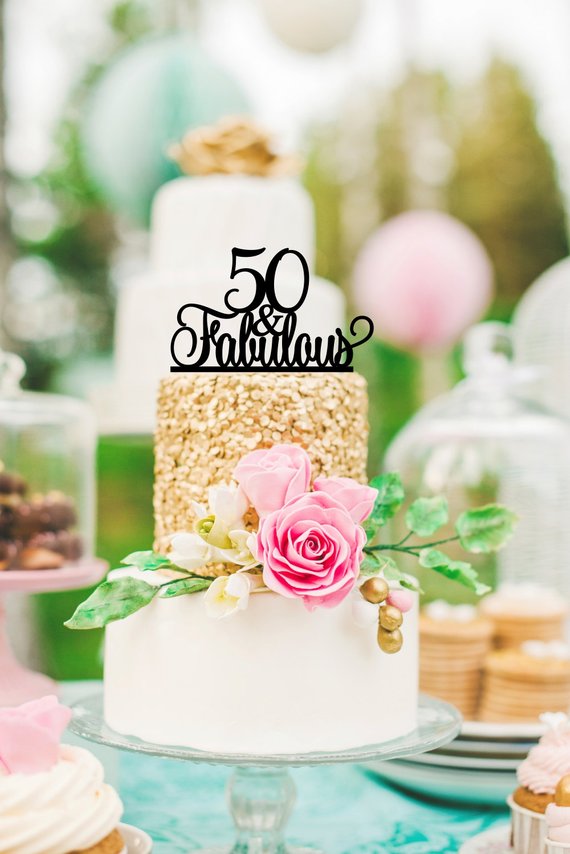 ---
If you have a summer 50th birthday coming up, then this sweet Sunflower themed birthday bash is perfect! With the bold colors and fresh flowers as the perfect inspiration, there is no doubt this theme will be a hit.
We love the collection of treats and decorations for this party, like the sunflower cookies, peach smoothies, and flowery decor!
---
Get GROOVY with it and take it back with a one-of-a-kind Disco Celebration.
Tell everyone to pull out the bell-bottoms and get their dancing shoes ready for this super fun 50th Birthday Party ideas.
---
Avoid those drab and dreary "Over the Hill" 50th birthday party themes and instead, bring light and inspiration with this "Enjoy the Ride" idea.
Mixes of summertime stapes like lemonade, watermelon, gingham, and bicycles, this party theme is bright, cheery, and fun.

---
50th Birthday Party Decoration Ideas
Gather up all your favorite photos of the big birthday guy or gal and create this totally fun photo wall.
I love this idea of creating a big 5-0 with some fun pictures to honor the new 50-year-old.
---
These flashback and favorites signs are perfect to recap the last 50 years. Create a fun sign with some of the birthday guy or gals' favorite things, accomplishments, and facts from over the years.
It's also a great idea to add in fun facts from the year they were born, like who was the president, how much did bread cost, or what was the most popular song on the radio then.
---
What better way to celebrate such a big birthday than the biggest balloon installment? It's a showstopper for sure!
---
Fun 50th Birthday Party Ideas
Spell out the big 5-0 in their favorite cupcake flavor! It's the perfect dessert table idea for a 50th birthday party.
---
Maybe a little ornery, but this older than dirt dessert is the cutest 50th birthday party dessert idea.
Taking it back to a childhood favorite treat, while still playing on the 50th theme.
---
Surprise the newly 50-year-old with a funny, but maybe useful set of quirky gifts that are all in the spirit of getting older.
From pain relievers to energy tablets these little gifts are all in good fun and bring a little laughter to any bash.
Plus who couldn't use some extra Tylenol?
---
This is a great way to keep the 50th party theme going throughout, plus a fun way for people to take a little party favor home with them.
Customized cups are one of my must-haves when planning any bash, and especially for such a big bash like a 50th, they are a must!
Let us know in the comments your favorite 50th birthday party ideas, and how you plan on celebrating!