Inside: 15 Cheap Kids Birthday Party Ideas
What makes a perfect birthday party? Cake, decorations, or party favors? All those party must-haves can add up to a pretty large cost, but you don't have to spend a fortune to throw a stellar bash.
We have come up with a few easy tricks, tips, and ideas to cut that cost without cutting the fun.
These 15 cheap kids birthday party ideas are full of colorful decorations, easy-to-make treats, and one-of-a-kind party favors. Check out a few of our favorite ideas for your next birthday bash.
Cheap Birthday Party Decoration Ideas
The beauty of balloon garlands is that they can be lavish and grand but don't have to empty your pocketbooks. With a few tricks, you can create a professional-looking garland at half the price.
Pick up some colorful balloons, THIS amazing tool and you've got all the makings for a beautiful balloon garland.
---
If you have any extra felt lying around then this DIY is the perfect budget-friendly birthday decoration for your next bash.
Put your scissors to work and create a colorful decoration that you can use over and over again.
---
I love these! Cardboard is cheap, even free (I know we all have leftover amazon boxes lying around) by adding some fun colored paint you can create a cheap party decoration.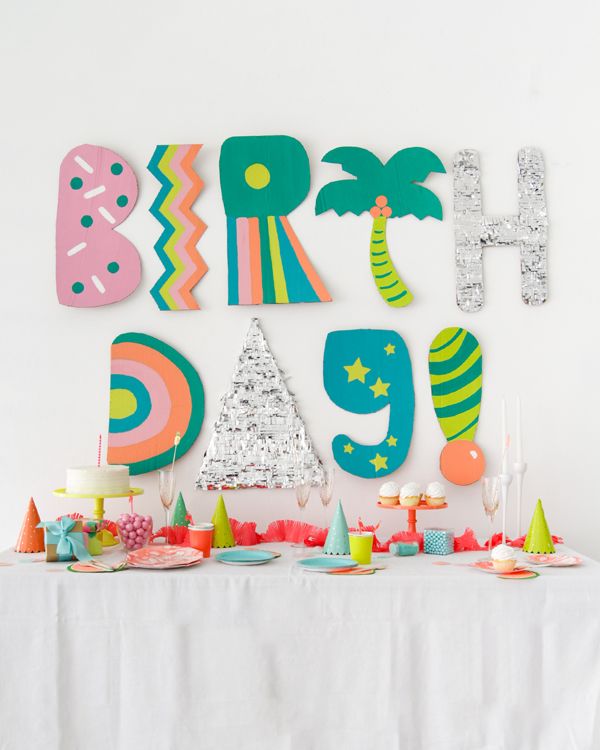 ---
A classic decoration, the paper chain garland is an easy way to add a little festive flair to a party.
With some leftover paper, you can create a budget-friendly decoration that adds something special to your space. Plus this is the perfect DIY that your kiddos can help out with.
---
What a sweet idea!
Adding some colorful gumballs to a clear container and adding a numbered candle to the mix is a fun way to add a little fun to the party.
---
Cheap Birthday Party Food Ideas
Buying from a bakery can get pricey, here are a few ideas to cut the cost of food and goodies.
Here are a few of my favorite cheap birthday party food ideas that you can either make or upgrade to fit your theme.
Fruit skewers are a birthday must-have for me, for many reasons. First, they are a healthy option, secondly, they add a great pop of color to the food table.
I especially love how they used a cookie cutter to shape these fruit for a fun flair. The best way to keep this a cheap option is to buy fruit that is in season and assembling them yourself.
---
Oh, I love a good-themed treat.
These ladybug cheese wheels are a great way to add to your table without spending tons of money.
---
Like I said before, to save money, skip the pricey bakery cakes.
Most of the time when you go to the bakery section of your grocery store, there are a certain number of pre-made cakes ready to take home.
Although they can be very pretty, they may not fit your party theme. This is why I love how to use low-cost cakes and revamp them into professional-looking masterpieces.
Bonus, you don't even have to be a master baker to make them look good.
---
I feel like there are a MILLION different ways you can spruce up simple Rice Krispie treats. They are an easy, inexpensive treat that with just a cookie cuter and maybe a few decorations can fit into any themed birthday.
From stars, paintbrushes, and crazy creatures, you can turn them into anything at a low cost.
---
Trust me, I will be the first to admit royal icing cookies are NOT EASY! I love the look for these super cute, detailed, and fancy royal icing cookies, but they can be expensive.
Who wants to spend all that money on something that is going to be eaten anyway?
These lego cookies are a fun royal icing cookie idea that anyone can make, you totally don't have to be a pro!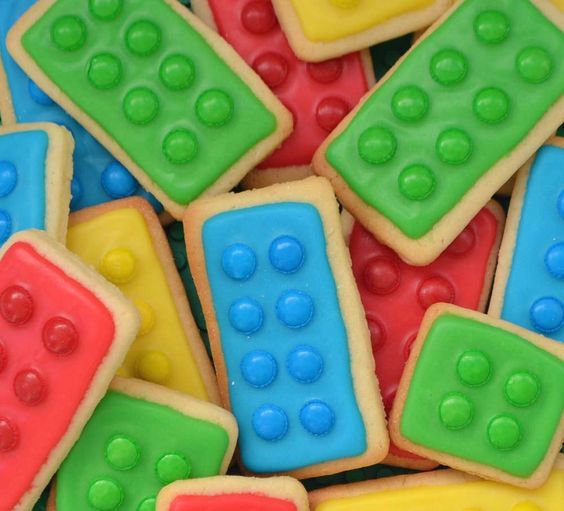 ---
Cheap Birthday Party Favor Ideas
When it comes to party favors I always try to make ones that double as decorations during the party. This can cut on the cost of decorations but still add a little fun to your decor.
I love this colorful Crayon Party from our archives which makes this crayon-themed party favor a perfect idea for kids' birthday parties.
With just a few simple supplies like a marker box, notepad, bubbles, candy, and squishy, you can create a fun and dynamic party favor at a low cost.
---
Grab a jumbo pack of beads and some twine and create colorful custom bracelets for all your guests.
This is such a cute DIY for your kids to make themselves for each of their friends.
---
Playdoh is a great bang for your buck when it comes to party favors. Each guest can take home their own container of fun playdoh to play with later.
I love how they added a fun on-theme sticker for this donut theme party. That is such a great way to add a little more of a personalized touch at a low cost.
---
Create a tasty candy or snack mix, bonus if it's on theme with the party. Like this Unicorn Poop mix, it's perfect for a Unicorn Magic party and it's a sweet mix all the guests can take home with them and snack on later.
This is a budget-friendly option because you can make a large batch of the mix with simple ingredients at a lower cost.
---
The perfect summer birthday party favor, just head over to your favorite local dollar store and pick up a couple dozen.
Add a fun sticker or label to create a more personalized touch.
---