While I absolutely love Pinterest, I've always joked that it's a good thing that it wasn't around when I was planning my wedding because I would have wanted to do all the things!
When attending a wedding or rehearsal dinner I love seeing the couple's personality and interests shine through as they incorporate fun details that are unique to their story.
I would definitely spend days planing out my Rehearsal Dinner Theme and decorations!
Do you love breakfast? Serve it at the rehearsal dinner! Enjoy making cookies together? Use it as a place setting.
Small details not only add personalization but also let your guests in on the special things you enjoy together as a couple.
The best part is that with a few DIY projects and a little creativity, planning a one-of-a-kind rehearsal dinner doesn't have to cost a fortune.
Today I'm sharing 12 Cheap Rehearsal Dinner Ideas that are high on style and right on budget.
Click the link or photos below for more details.
12 Cheap Rehearsal Dinner Ideas
This rehearsal dinner idea is perfect for those couples who are obsessed with breakfast and brunch. Or a pair that really, really are down with a good pancake breakfast.
I love its casual feel and the use of all the different colors of glass and fresh flowers. The event still has an air of formality, but because it's breakfast, it's lends itself to a more casual affair.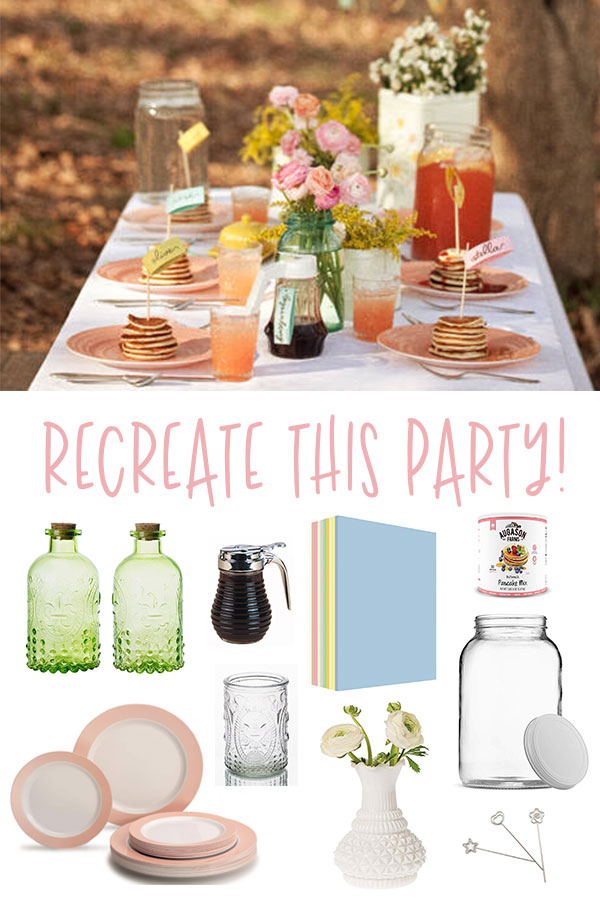 SHOP THIS LOOK
---

This rehearsal dinner party idea is ideal for your casual couple who loves a good backyard BBQ.
Class it up by using a linen tablecloth and napkins and make sure the backyard is decked to the nines with backyard lights and paper lanterns.

SHOP THIS LOOK
---
I love, love, love this idea for a rehearsal dinner! A pizza bar with all the flavors and toppings for your guests.
The pizza serves as the main decor with a large chalkboard sign detailing which pizzas are which. And don't forget the candles!
Even more fun could be having each of your guests make their own pizzas! It could be an entire experience!
SHOP THIS LOOK
---
This idea is perfect for the ultimate paper crafter!! Handmade paper name tags are such a sweet gesture and touch for your wedding party. Especially when you're bring two families together who may or may not know each other.
Names are tricky to remember on the best of days, but wedding are especially tricky. There are just SO MANY new faces.
Name tags are a kind and easy way to help avoid potential awkwardness. I even love the idea of adding how the individual is related to or knows the bride or groom!
---


My favorite aspect of this rehearsal dinner is the BEST DAY EVER sign placed on every table.
It helps everyone get excited for the wedding the next day. It's a DIY, super affordable and would be the most delightful keepsake.
SHOP THIS LOOK
---
I love the idea of personalizing your rehearsal dinner with the bride and groom's favorite treats! Grab these His, Hers and Our Favorite Gift Tags!
Cookies, dessert or songs are a perfect way to bring the couple's personalities to the dinner!
---
Turns out Mad-Libs are just as entertaining when you're an adult! This is such a fun idea to have your guests fill out at your rehearsal dinner.
Even more fun if you have each table read the most entertaining Mad Lib to the whole wedding party. It's bound to get everyone laughing and is a great way to provide a shared experience and memory with your guests.
---
If you're on a budget, I can think of no greater decor than photos! They are personal, inexpensive and can really pack a punch.
You can print them HUGE and display them in the entryway or print oodles of them and arrange them as a table runner.
They would even be a fabulous keepsake to pull out every anniversary!
---


When my husband and I got married, we barely knew each other's family. And they surely didn't know each other.
Something like this would have been such a fun way to 'introduce' us to each other's siblings, aunts, uncles and extended families.
---
Another great way to decorate on a budget is with glass bottles! You can use old Coca Cola bottles, Mason Jars or vases from Goodwill.
Fill them with faux or real flowers and place a dowel in the jar/vases with photos glued on them!
It's inexpensive, personal and can be so colorful and festive.
SHOP THIS LOOK
---
I had to add this one because balloons are EVERYTHING! They are inexpensive, full of character and provide a huge focal point to any event. Plus they are such a fantastic way to create a photo-op atmosphere.
Grab gold LOVE balloons HERE!
---
Now this is a fun way to get people excited for a big day and what a fun DIY!
Pin it for later!
Looking for more wedding tips, tricks and ideas? Check out these posts on Love the Day: