With swim season just around the corner here in Texas (so crazy….sorry all you snowed-in peeps), it's the perfect time to start thinking of an Ocean Party or fish-themed celebration.
I've share a few Under the Sea Parties before, but the Under The Sea Party Decorations of this party are too good not to share.
Under The Sea Party Decorations
First off, can we talk about how genius it is to use an ocean-themed shower curtain as a backdrop or party decor? The pattern brings such an amazing POP to this whole party scene.
Between the shower curtain and the fish net ceiling decor, this decor is spot on.
I also love how the host used polka-dot garlands (so easy to make OR so inexpensive to buy) to splatter the walls with color, shapes and dimension!
Under The Sea Party Food
The food in this Under The Sea party is just as darling. The host served a fondant fish-themed cake, carrots and 'sand' hummus appetizers, DIY flavored waters and of course…goldfish.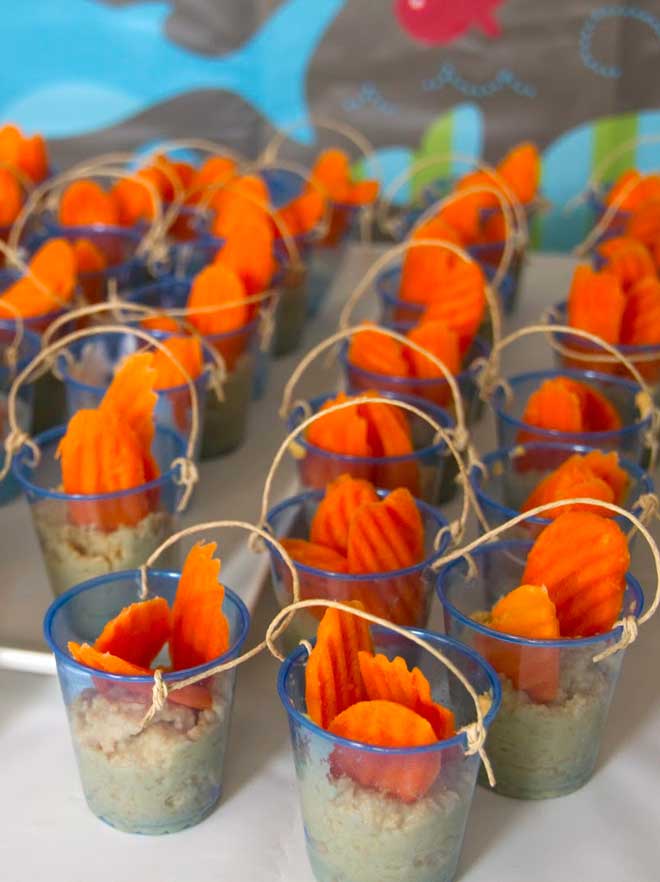 Under The Sea Party Favors
My very favorite aspect of this Under The Sea party are the adorable party favors. The host handed out blue party pails filled towels, a fish plushy, under the sea stickers and party treats!
THINGS YOU'LL NEED TO RECREATE THIS UNDER THE SEA PARTY:
Fish Netting – Under The Sea Shower Curtain – Polka Dot Garlands – Starfish & Sea Shells – Plastic Fish – Blue & White Striped Straws – Orange & White Striped Straws
Blue Plastic Cups – Mason Jars – Beach Pails – Fishy Towels
To see more of this fun party, make sure to go to Life On The Mom List.
---
Here are some of my favorite Under The Sea Party ideas from around the web:
Under The Sea Photo Backdrop Party Props