Summer parties are my absolute favorite. There is something about the summer heat, ice cream and water games that scream party. Today I'm sharing a collection of Summer 1st Birthday Party Ideas that scream SUMMER and celebration!
There are so many adorable themes for Summer, but I've narrowed it down to my top 10 Favorite Summer 1st Birthday Party Ideas.
10 Favorite Summer Birthday Party Ideas.
Click the link or photo for more ideas and inspiration for each theme.
I can think of no better theme for a summer birthday party than an ice cream party! It's hot outside and cooling a group of kids down is no easy feat. Tying an ice cream dessert to the party theme is the best way to do it!
I love this Ice Cream Party with it's darling pink backdrop and some of the most creative, delicious ice cream-themed treats I've ever seen.
I mean, how cute are those Mini Marshmallow Ice Cream Cones, Ice Cream Cupcakes, Ice Cream Sugar Cookies and of course that darling Ice Cream Cake?
And heaven knows I love EVERYTHING scallop. That scallop tablecloth really brings the theme home.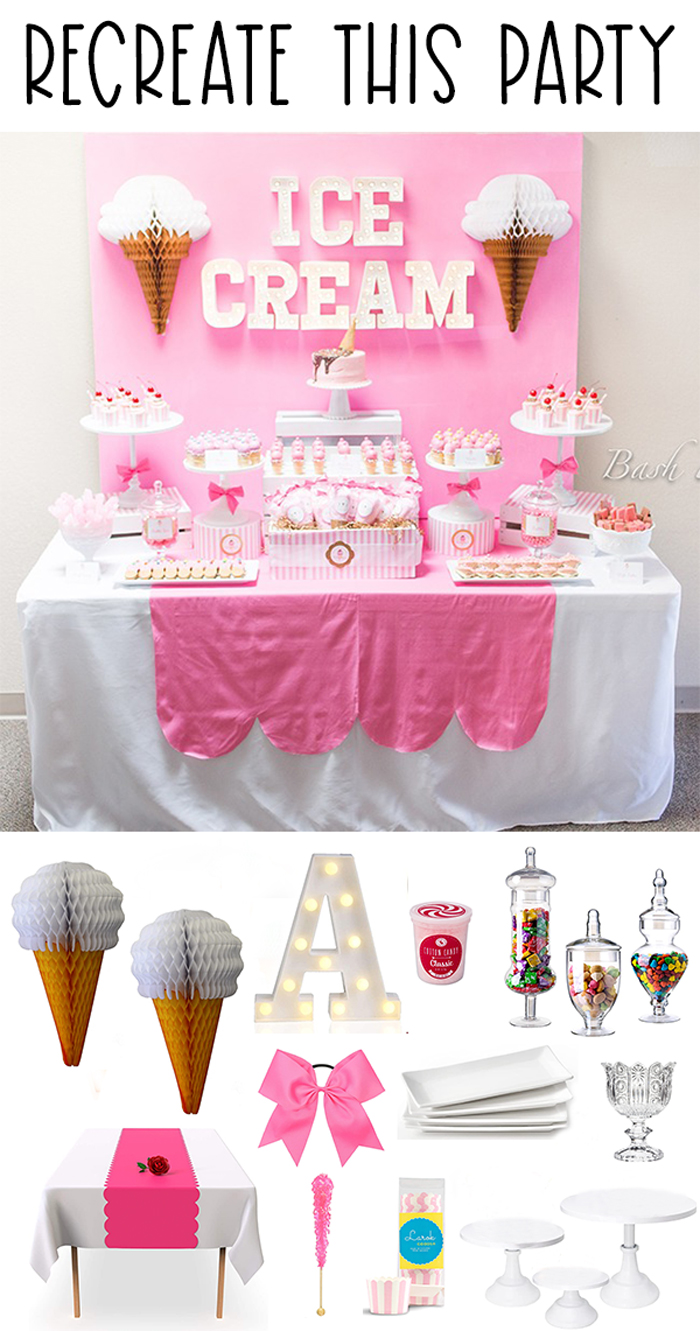 SHOP THIS THEME
Honeycomb Ice Cream Cones – Marquee Letters – White Cake Stands – Pink Scallop Tablecloth – Candy Jars – Pink Cupcake Liners – White Serving Plates – Pink Rock Candy – Pink Cotton Candy – Pink M&Ms – Pink Bows – Glass Candy Dish
---
When my daughter's were little, all their dreams were tied up in mermaid everything! Throwing them a summer Mermaid Party would have pretty much blown their mermaid-loving minds.
Over the years I have designed A LOT of mermaid party decorations/files and crafts. A few of my favorite are: Mermaid Printable Party, Mermaid Infusible Ink Tote and a Mermaid Happy Birthday Backdrop.
Any of these ideas would be DARLING at a summer mermaid party. I also love the idea of giving each guest a mermaid tail blanket as a party favor.
SHOP THIS THEME
Turquoise 36′ Balloons – Cardboard Cake Stands – Mermaid Paper Fans – Ribbon Garland – Felt Ball Garland – Mermaid Cupcake Topper – Mermaid Sprinkles – Mermaid Crowns
---
---
I have the most darling nephew that has been OBSESSED with sharks since he was in diapers. I think his cute mom has thrown him three shark parties so far now. It's the only party theme is approves of!
Here is his 5th birthday where we even rented him a shark-themed water inflatable!
I love this idea for a 1st summer birthday because it's colorful and can incorporate water which is CLUTCH for a summer party. You can host the party outside, but keep the kids cool with water games or swimming.
SHOP THIS THEME
Shark Pom Pom Garland – White Paper Circle Garland – Shark Confetti – Glitter Shark Fin Cupcake Topper – Ocean Sprinkles – Shark Candy – Milk Glass Jars – Red & White Straws – Turquoise Paper Plates – Silver Paper Plates – Blue Bakers Twine
---
I grew up in Utah which meant my summers were spent camping! My dad would take all five of us kids up to the mountains and we would spend hours exploring, hiking, making tin-foil dinners and roasting marshmallows.
That being said, I would have LOVED a summer camping party! Especially one with a towering naked cake and those adorable rice krispie treats like in the photo below!
I also love the idea of incorporating my Camping Printables to a camping party! There is something about paper that just fits the theme.
SHOP THIS THEME
Black Cake Stand – Galvanized Tin Buckets – Rustic Crates – Wood Pedestal – Twig Color Pencils – Outdoor Lights – Biodegradable Plates – Camping Cutlery – Hurricane Lantern – Forest Animals – Wood Grain Cupcake Wrappers
---
I have a younger brother who is pretty smitten with baseball. When we were young, I would spend my weekend at his little league games and fell in love with the game myself.
I wish I had a son to pass this passion onto! I would for sure throw him a baseball-themed party. I've tried to convert my daughters, but they don't have any interest.
I need to find a girl or boy in my neighborhood to give all my baseball-loving enthusiasm to. I would certainly throw a party similar to party below. It would be complete with baseball balloons, crackerjacks and sunflower seeds!
SHOP THIS THEME
Baseball Banners – Rawlings Baseball Bucket & Balls – Popcorn Boxes – Galvanized Tin Buckets – Galvanized Tub – Table Skirt – Red & White Straws – Baseball Napkins/Cups – Cracker Jacks – Baseball Balloons – Wood Crates
---
Living in Texas, we don't survive summer without A LOT of Lemonade Stands. You see them every weekend on every corner. It's the only way to beat the heat.
For that reason, I think a Pink Lemonade Stand would be the most adorable 1st Birthday party theme. Between the lemons, bright pinks and green accents, you have all the pieces for a bright and refreshing summer party!
SHOP THIS THEME
Pink Cookie Bags – Pink Pennant Banners – Green Berry Baskets – Printable Lemonade Party – Mason Jar Drink Dispenser – Lemonade Birthday Crown – Lemon Balloons – Lemonade Paper Straws – Yellow Twist Pops – Pink Lemonade Lollipop – White Crates
---
Surf Birthday Party
---
---
Aren't these Summer 1st Birthday Party Ideas absolutely adorable? Which one is your favorite? I love them all but I'm really crushing on the florals and flamingo theme. Happy party planning!
Love this? Pin it for later!
Looking for other Summer 1st Birthday Party Ideas? Be sure to check these out on Love the Day:
Other Summer ideas from around the web:
DIY Color Powder (for a color fight)
Homemade Fire Starters for Camping
Instant Pot Sweet Iced Tea Recipe
How to Make a Paper Fan Rosette Tutorial