This fantastic DIY Circus Birthday Party themed celebration was sent to me by Kristin of Kristin Visk Photography. How incredible is that vintage popcorn machine?
And I love the centerpiece arrangements; the ticket-wrapped vases and the scattered peanuts are the perfect touch.
Is there anything better than a marquee sign? Nope…a absolute must for a circus party! 

Are you looking to host a Circus Party? Here's the easiest way to start: download and print the Robot Party Printable Party I designed.
CIRCUS PARTY PRINTABLES
The circus party is now available HERE.
I like to print the pater on 80lb White Cardstock. I print the party at home on my Canon PIXMA.
Using my 2.5′ Hole Punch , I punch out the party circles and my Fiskars Scissors to cut out the rest of the party.
I go about decorating my party with the printables and then purchase a few items to accent the party. Here are some of my favorite Circus Party Decorations from around the web:
CIRCUS PARTY DECORATIONS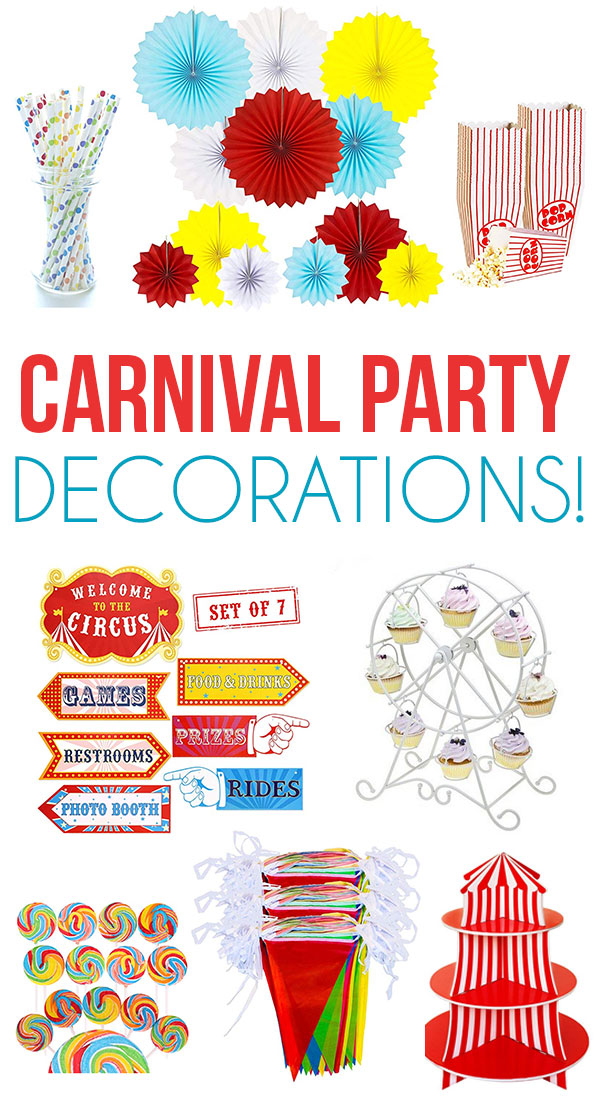 Here are all the links to these adorable products:
3 Tier Cupcake Foam Stand with Circus Carnival
Small Popcorn Boxes
Carnival Paper Fans
Carnival Party Signs
Carnival Party Straws
Carnival Pennant Decorations
Ferris Wheel Cupcake Holder
Swirl Lollipop
CIRCUS PARTY FOOD IDEAS
This is a circus party treats that ANY mom can make (or buy)! Put them in darling red and white baking cups and top them with animal crackers.

These cupcakes are a bit more tedious, but oh boy are they worth it! Slip a cupcake into those same red and white baking cups, place a cupcake inside it and top them with marshmallows, slit and dyed!

Cheers for another genius and EASY treat idea. Twinkie Dogs….drizzled with red frosting to look like catchup. Place a lollipop sick in the Twinkie and you have the cutest 'hot dogs' at the circus.

CIRCUS PARTY ACTIVITIES
Is it even a party without a photo-booth?! Especially one as darling as this? That stunning star is just precious and I can't handle how cute that barbell is!
Nothing's more fun that a classic game of Ring Toss. Especially at a carnival. I love how this rendition is housed within a darling circus stand.

I made one of these Prize Punch Boards for my church's nursery and it was A MAJOR HIT! They loved it. I think this would be a great idea for a circus party activity.
LIKE THIS POST? PIN FOR LATER