One of my fondest memories growing up was the special time spent crafting with my family.
I'm not sure why I remember it so vividly, but when I think back on my childhood some of the sweetest moments involved a simple box of crayons, watercolors and let's be honest all the glitter.
I'm pretty sure childhood dreams are made of glitter.
As a mom I often find myself looking back to my younger years partially because I find myself finally understanding that my parents were actual superheroes and also because I have a deep desire to recreate the special things I loved as a kid for my girls.
That's one of the main reasons why you'll find us crafting often.
With Easter just around the corner I can't wait to have some mom and me craft time and pull out all the pretty pastels.
To get in the spirit, today I'm sharing 15 Easter crafts for preschoolers.
These crafts are not only simple but oh so adorable. That's a winning combo in my book!?Click on the titles or photos below for the full tutorial.
15 Easter Crafts for Preschoolers
Is there anything cuter than a holiday craft made out of a paper plate? I say no! Add googly eyes and you have me totally sold.
These DIY Easter Chicks are the cutest, but will definitely need adult supervision because glue in involved!
SHOP THIS CRAFT
---
This craft is for the bold mama or teacher who doesn't mind paint mess! It's such a fun clever idea that can be put together with items you most likely have around your home or school.
TIP:: Don't forget to use washable paint!
---
Here's another adorable paper plate Easter craft for you! Similar to the chick, you'll need an adult helping here because the pom poms or cotton balls will need to be adhered with glue.
I love that the craft doesn't really need a template and looks even more adorable when the ears/face are just free drawn!
SHOP THIS CRAFT
---
This is a great Easter Craft for preschoolers to do as a table! The darling Easter Egg molds can hold paint for multiple children at once.
I love that the craft doesn't necessarily need a paint brush. Ear swabs are practical and so much fun! Plus they make for easy clean up!

SHOP THIS CRAFT
Q-Tips – Egg Mold – Washable Paint – Oval Paper Punch – White Construction Paper
---
This is a craft that is PERFECT for an art teacher, preschool teacher or mama with LOTS of craft supplies lying around (GUILTY!!!). Cut eggs out of white card stock and let the little ones go crazy decorating them with all the craft supplies you have lying around.
Some of my favorite are: washi tape, pom poms, foam stickers and color sticks!

SHOP THIS CRAFT
---
I'm not going to lie, this craft seems SUPER fun for all ages. Myself included. Am I a 40-year-old woman? Yes I am! I mean, who doesn't love bubble wrap?
The only tricky aspect of this craft is saving enough bubble wrap so that the entire class has an opportunity to participate.

SHOP THIS CRAFT
---
This is one of those crafts that is not only darling for a holiday, but also a fantastic memento to send home with preschoolers. Moms love fingerprint crafts to put in scrapbooks!
My advice here is to fingerprint one child and a time! Have a washcloth on hand and wash fingers right after they are stamped.

SHOP THIS CRAFT
---
I am a sucker for ornament crafts and would LOVE it if my toddler came home with one as darling as this. It would hang on my Christmas tree forever!
I could see this as another fun opportunity to use toddlers fingerprints here as well.


SHOP THIS CRAFT
---
These doily Easter eggs are darling! What a fun idea. I love that the craft uses washable watercolor paint (yay for little mess) and creates such fun textures for your eggs. They are so non-traditional!
SHOP THIS CRAFT
Pastel Cardstock – Doilies – Washable Watercolors – Glue Stick – Scissors
---
This is the PERFECT craft for a preschool class. I can't think of a location with more half-used crayons that needs to be re-homed! All you need are old crayons and a Silicone Easter-Bunny shaped mold.
---
I can't think of anything more magical than a collection of bright and colorful Easter eggs hanging from a preschool ceiling. Especially when they gleam through the window!
Each kiddo can have their own colorful egg to take home for the holiday.
---
Another handprint/footprint craft for moms to swoon over! This example has hand-drawn eyes, but I would use googly eyes. Because googly eyes are EVERYTHING!
---
---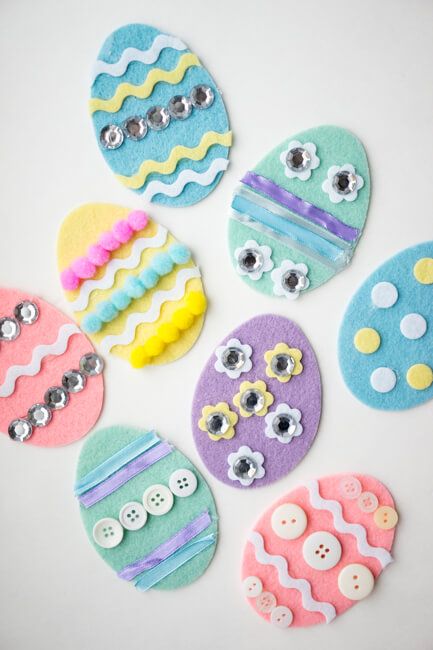 ---
Are you ready to get crafting with your kiddos?
I hope these ideas inspired you to pull out the art supplies and create some memories together.
Which craft(s) caught your eye? Happy crafting!
Pin 15 Easter Crafts for Preschoolers for later
For more Easter ideas that are perfect for kids check out these posts on Love the Day: