This is a sponsored post written by me on behalf of HERSHEY® for SheSpeaks. All opinions are 100% mine.
Easter is almost here and it's time to start thinking about how you can make this spring-filled holiday special for your little ones.
When my girls were younger, they were very much into hunts and scavenger hunts. We always kept the clues simple enough that they were easy to solve and had a fun prize or treat and the end of the hunt.
It was always so much fun to see them get the clues, run to the next station with their cute giggles.
One year we had an especially rainy Easter and decided to put together an easy Indoor Easter Egg Hunt. I thought I would share our clues and our Easter Basket prize in case you'd like to replicate the idea!
HOW TO PUT TOGETHER AN INDOOR EASTER EGG HUNT
Download and print the Indoor Easter Egg Clues (you can find the file at the bottom of the page).
Download and print the Printable Easter Basket Template Clues (you can find the file at the bottom of the page).
Assemble your Printable Easter Baskets (you can find the file at the bottom of the page).
CUT OUT THE BASKETS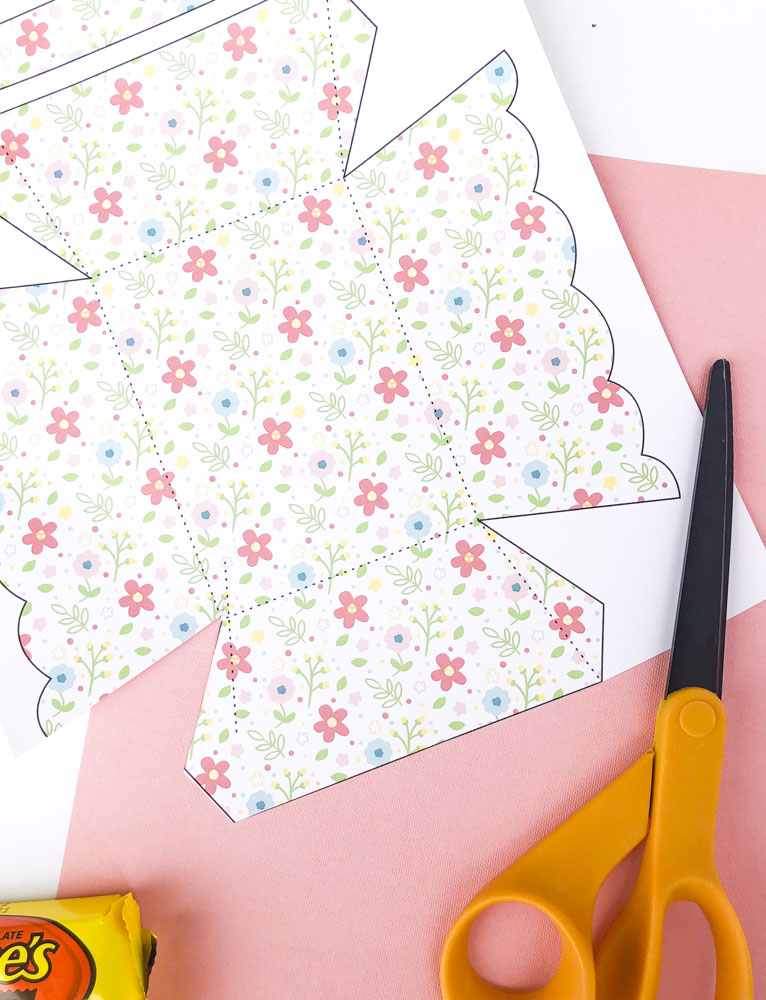 FOLD ON THE DOTTED LINES & TAPE PRINTABLE BASKETS TOGETHER
TAPE THE HANDLE TO THE BASKET
FILL THE BASKET WITH REECES AND CADBURY EGGS
I found a some at Walmart. They are my family's favorite Easter treat so I make sure to load the baskets with lots of the peanut butter and chocolate goodness.
Cut out the Easter Egg Hunt Clues.
Tape them in their hiding spot. Make sure you tape them where they can easily be seen! No need to be too tricky.
Hide your Printable Easter Basket in the freezer (that's where the clues end).
Let the kids go wild and enjoy watching their faces as they find their Printable Easter Baskets filled with all their favorite Easter candy.
While my girls have outgrown this particular Easter Egg Hunt, my husband and I have been thinking of ways we can continue the tradition. I think we may try to put together something a bit more challenging this year.
You can believe that the girls' baskets will be filled with REESE'S though! Easter is just not Easter without a basket full of our favorite treat.
Need more Easter ideas? Check out these posts:
10 BEST Easter Printable Crafts
Pin The Tail On The Bunny Easter Game
PIN THE PRINTABLE EASTER BASKET TEMPLATE FOR LATER