Inside: 11 Creative Seashell Crafts for Kids
So you have tons of seashells? Here are some great DIYs to put them to good use! Whether you just visited the beach and collected buckets of shells or maybe you hit up the dollar section and grabbed bundles of seashells, these crafts can turn them into creative DIYs.
From the cutest and most colorful DIY to some totally adorable seashell creatures, we have put together the ultimate list of seashell crafts for kids!
Creative Seashell Crafts for Kids
Hands down, one of the cutest seashell DIYs I have ever seen. These cute little ladies are one of a kind cuteness. Perfect for small puppet shows or pretend doll games these little ladies are so, so cute!
---
I have seen Melted Crayon Rocks several times and each time they look SO fun. So why not try decorating the basket of seashells with melted crayons?
---
What a fun memento of a family vacation or souvenir for all your friends! These colorful seashell keychains are perfect for a festive DIY!
---
This is the perfect seashell craft for kids. If your kids have ever dyed Easter eggs then they can totally create these colorful shells.
Turn them into keychains, magnets, or fill them in a jar for colorful decor.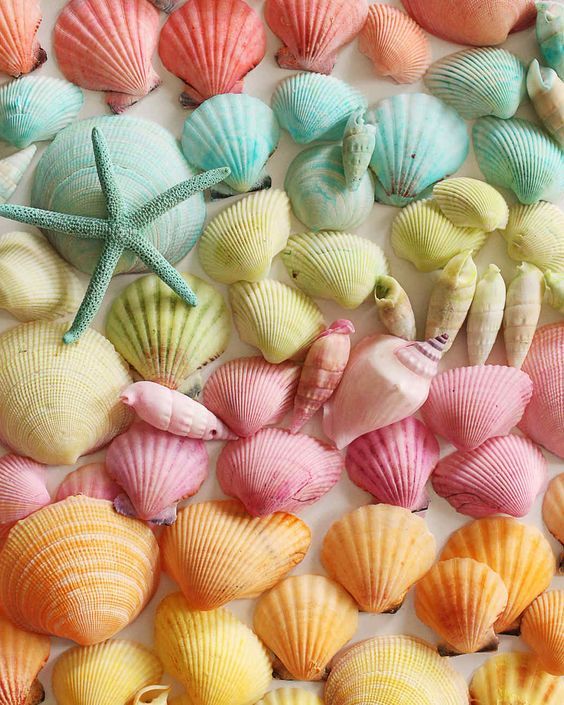 ---
Seashell Animal Crafts
One of the cutest ways to create with seashells is by making them into cute little animal crafts. From fish, pandas, and puppies the possibilities are endless.
These little seashell fishy friends are the perfect craft for kids. They are a great DIY to add magnets to and create fun fridge decor.
Adding some colorful paint and cute google eyes they are such a fun and easy DIY.
---
Create some fab crabs with your favorite seashells. What a festive way to use seashells?! By adding some fun pipe cleaners and google eyes these little creatures are the perfect DIY.
---
Made using colorful pom-poms, pipe cleaners, and google eyes (our favorite!), these cute little crustaceans are a great project for small hands to create after a day spent taking in some sunny sand and surf.
---
We all have a four-legged friend that deserves their own DIY. I mean how cute of these little pooches? I love the idea of using these seashells to make doggy ornaments.
This is a great craft for maybe a little bit older kids, because of the precise painting and gluing, but still a great seashell DIY for kids.
---
Seashell Home Decor
Add a little glitz to your ocean souvenirs and what better way than creating a fun frame to hold all your beach memories.
I love the idea of creating a fun frame with your collection of seashells that you gathered at the beach, then fill that frame with your favorite beach photo.
---
Bring the sound of the ocean home with these adorable, colorful seashell wind chimes.
---
Add a little personal touch with this seashell craft. Let the kiddos pick out their favorite shells and create their own personal DIY for their room.
---
Take all your ocean and shelly fun to the next level with these super fun Beach Birthday DIY Party! These crafts would be perfect activities for this totally tubular party theme.