I am so super excited to be a contributor to the 2013 Design Dazzle Summer Camp series this year! And to celebrate, Design Dazzle and all the contributors are hosting a HUGE Summer Camp link party! The link party will run through July 26th and will include all of this year's projects, but we want YOU to link up your summer fun activities as well.
Feel free to link up any projects, ideas, crafts, etc. that you have created which involve Summer Fun & Kids. We want new ideas as well as ideas from years past…the more the better!
All ideas added to our Summer Camp link party will automatically appear on all of the wonderful participating blogs seen below: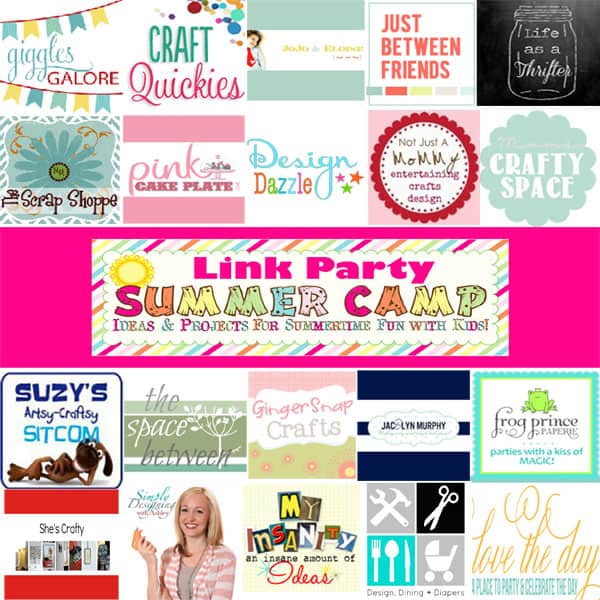 We would love for you to follow all of us on our blogs & on Pinterest! Simply click on the link below to find these awesome bloggers' sites & Pinterest boards for even more fabulous inspiration!
Design Dazzle Design Dazzle Pinterest
Not Just A Mommy Not Just A Mommy Pinterest
Pink Cake Plate Pink Cake Plate Pinterest
Mom's Crafty Space Mom's Crafty Space Pinterest
Ginger Snap Crafts Ginger Snap Crafts Pinterest
Giggles Galore Giggles Galore Pinterest
Simply Designing Simply Designing Pinterest
The Scrap Shoppe The Scrap Shoppe Pinterest
Frog Prince Paperie Frog Prince Paperie Pinterest
Craft Quickies Craft Quickies Pinterest
Jac O' Lyn Murphy Jac O' Lyn Murphy Pinterest
JoJo & Eloise JoJo & Eloise Pinterest
She's Crafty She's Crafty Pinterest
Me and My Insanity Me and My Insanity Pinterest
The Space Between The Space Between Pinterest
Suzys Artsy-Craftsy Sitcom Suzys Artsy-Craftsy Sitcom Pinterest
Just Between Friends Just Between Friends Pinterest
Life as a Thrifter Life as a Thrifter Pinterest
Love The Day Love The Day Pinterest
Be sure to visit all of our previous Summer Camp ideas as well by clicking the banner below!