Last year at this time, my daughters and I were packing for a quick trip to New York City!
My girls couldn't remember spending LOTS of time there as a toddlers so I figured it was time I re-introduce them to Magnolia's Banana Pudding and The Sky Line.
The day before our flight, due to bad weather our flight was cancelled and we couldn't find flights until way after our AirB&B reservations were expired. We were devastated.
Especially because we were going to celebrate my youngest daughter's birthday, Ella while we were there.
After a good pity party, we rallied and decided to throw Ella an EPIC New York Party with all of her friends. We figured, if we can't celebrate in NYC, we would bring NYC to Texas.
I had a quick 34 hours to prepare and headed straight to Michaels!

NEW YORK CITY PARTY DECORATIONS
I knew it was going to be difficult, but I REALLY wanted the party to feel like New York City. Or at least look like it.
I decided to tape black butcher paper around my dinner room, trace skyscraper buildings on the paper and then cut them out. The goal was to make the room look like the NYC skyline!
It was surprisingly easy to do and it really made a huge impact on the room!

I kept the rest of the decor simple: I decorated in black, red and yellow and used lots of polka dots and stripes! 
I used our homemade lemonade stand for the food station and spruced it up with a balloon garland (made with the incredible Balloon Strip).
I used the I Heart NY image and placed them in 8.5X11 inch frames and strung a My Minds Eye garland on the front of the lemonade stand.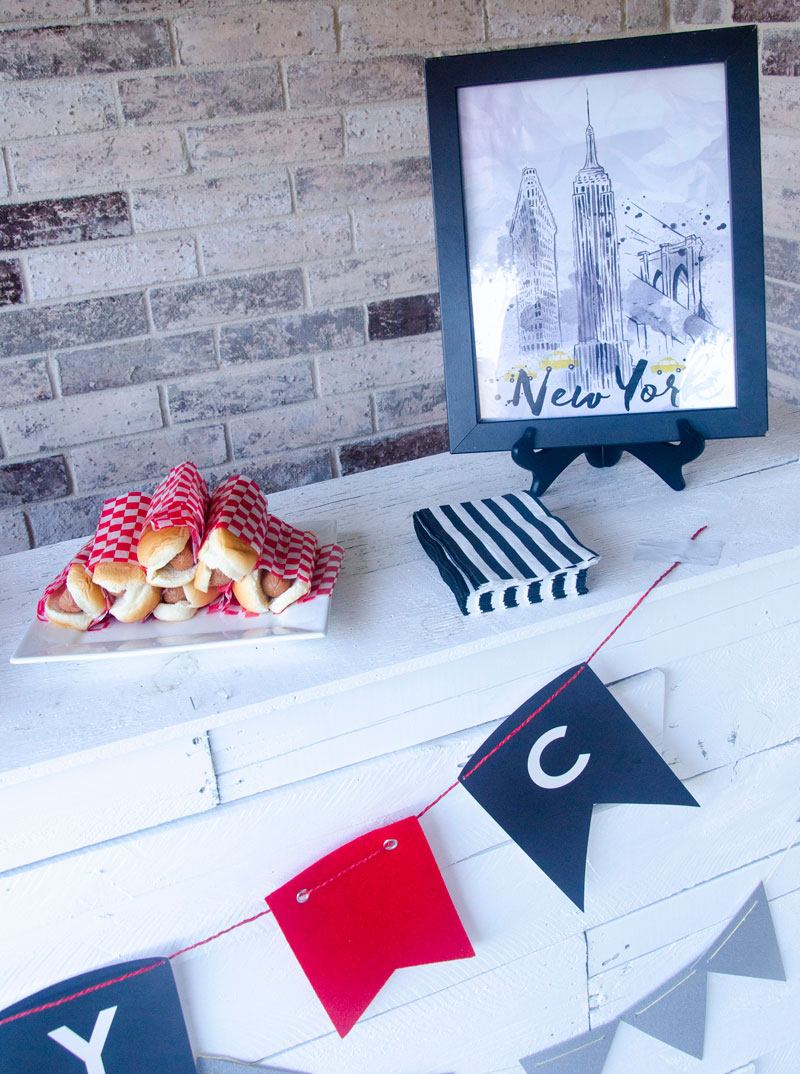 NEW YORK PARTY ACTIVITIES
The New York Party activities had to be simple because of timing and the age of kiddos. We decided to have the girls make I Heart NY Tote Bags and make New York City Slime!
For the tote bags, I used my Cricut Maker to make I Heart NY Stencils out of Freezer Paper.
Once the stencils were cut out, I ironed and taped them on white canvas totes. When the guests arrived they used fabric paint and sponged brush inside the stencil lines.

Once the paint dried, we pulled the stencil off of the tote. The result….a perfect I Heart New York painted-tote! The girls loved it!

NEW YORK PARTY FAVORS
Much like the rest of the party, we kept the New York Party favors VERY simple. Guests took home the NY Bag they painted, the jar of NYC slime and a homemade cookie.

While it was definitely not how we thought we'd celebrate Ella's 9th birthday, it ended up being a fabulous day. It wasn't NYC, but it was a close second.
To see more of my parties, check out these posts: Martha Stewart Blue & Coral Indigo Party, Magical Unicorn Party or Daisy Party.
PIN THE NEW YORK PARTY FOR LATER